Favorite Authors
By Megan Standley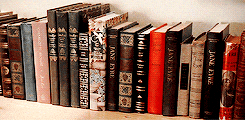 Everyone has their favorite authors (or maybe just one favorite author) and, hopefully, the writer that's inside you will lead you to be someone else's favorite author. Some have a list of favorites so big that it would take years to tell who their favorite author is. I am one of those people. However, it is usually those who have huge lists that have a top five list of their absolute favorite authors. I'll give you my own list and the reason why these authors are my top five.
Rick Riordan
If this name doesn't ring a bell (and it really should) think about Greek, Roman, Egyptian, and Roman mythology and mix it with teenage demigods. You can pretty much guess what he writes about from there. Riordan is the author of Percy Jackson and the Olympians, The Kane Chronicles, Heroes of Olympus, Magnus Chase and the Gods of Asgard, and The Trials of Apollo, and each series has a bit of everything for everybody.
I am a huge fan of mythology and Rick Riordan sets each of his series about each mythology in today's times. He's an excellent writer and he'll engage you in each of his worlds (all of which are in the same universe). I highly recommend him.
Kelly Armstrong
She's not as well-known as J.K. Rowling or Stephen King, but if you're into the supernatural then she's definitely worth looking into. She is the author of The Darkest Powers and Darkness Rising series. Armstrong can engage you into her supernatural world full of werewolves, necromancers, wizards, witches, and shapeshifters like none other, so if you like JK Rowling and/or Stephen King, you'll like Kelly Armstrong.
Melissa De La Cruz
Everyone who follows Mochila's Facebook page should have seen that this author is coming to Missouri Western State University (and if you haven't been following our Facebook page you really need to) and I'm very excited!
De La Cruz has written many books that would appeal to any reader. She has written supernatural, fantasy, or any other genre you can name. She also is an immigrant to the USA from the Philippines and has incorporated her experience into her 2016 book Something In Between. De La Cruz is also the writer for Disney's Descendants.
My favorite De La Cruz book series is the Blue Bloods series (not to be confused with the TV show) about a girl named Schuyler who discovers an ancient group of vampires. The series is engaging and, luckily enough, there are ten books in the series to keep you entertained.
J.K. Rowling
Of course JK Rowling is going to be on this list! How could she not be? Best known for her Harry Potter series, her books will be known for many years. Fun fact: she has a pseudonym, Robert Galbraith! Under that name she has written books like The Casual Vacancy, The Cuckoo's Calling, The Silkworm, and Career of Evil, all of which are for young adults.
Harry Potter has been one of my escapes since I was in high school, as I'm sure it was for many. The world building Rowling accomplished is fantastic, and the characters live on even when it's the end of the book.
Nicholas Sparks
I'm a sucker for romance novels, though funnily enough I can't stand much of romance comedy movies. Nicholas Sparks, however, is one I consider to write romance right. Sparks has written twenty-two books, and out of all of them my favorite is A Walk to Remember. The story is the cute teenage love story of how a girl changed a boy's life in a matter of one high school semester.
Sparks remains an active author to this day; his two most recent works are See Me and Two By Two. I highly recommend him as well.
So there you have it! My top five favorite authors. Which are your favorites?